A beautiful, relaxed and memorable wedding day at Scorrier House – Real Weddings
Article published: 20th October 2021, by Lisa Truscott on behalf of The 2 Lisa's


Real Weddings – Scorrier House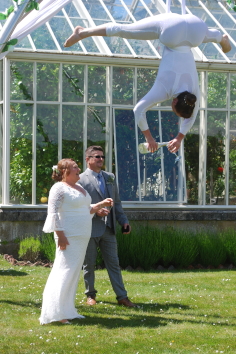 Wow – what a summer that was. After over a year of cancellations and not being able to perform, the restrictions were lifted and couples were able to have small and intimate weddings again. Michelle rang us the day after they finally had the confirmation they could definitely go ahead. 'Can you pull this together in 3 weeks?' she asked. Yes of course we can. We never stopped training in lockdown, albeit a bit different, but we were ready and excited to make someone's special day even more special. It seems like a long time ago now but we wanted to write about the experience as it was such a special day for us, being back in the air and entertaining wedding guests.

At the time wedding guests weren't allowed to dance, so Michelle and Tony wanted something different as their entertainment. And they got it!

We agreed on a package and three weeks later it was all go.
The Venue
Scorrier House is such a lovely venue. We've been on the grounds for festivals and performed in front of the house but never been inside before. What a treat! Such a stunning place. With a wedding you get exclusive use of the house and so we were given one of the stunning and spacious bedrooms as a dressing room. We were privileged to perform on our rig outside, with a glorious view of the sweeping parkland and magnificent gardens. And then, later in the evening, a fast paced and fun hula hoop act inside, with the grand double staircase as a dramatic backdrop. We were blessed with good weather and Scorrier House shone as the perfect venue for Michelle and Tony.
The Celebrant
Michelle and Tony contacted Sue Skillings, an independent Cornish Celebrant, for their hand-fasting ceremony and thoroughly enjoyed this part of their day:
"She made our day so special with her professional and heartfelt ceremony crafted to our personal beliefs, desires and hopes."
We helped to celebrate Michelle and Tony's union by pouring their welcome drinks from the silks hammock for their guests after their humanist blessing in the beautiful pool garden.
Handfasting ceremony by Sue Skillings
The Food and Cake
Michelle and Tony hired The Good Food Company to cater for their wedding. We worked alongside them whilst champagne pouring and their wonderful staff made our job easier by setting up, keeping the bottles chilled and handing them up to us when needed. Michelle and Tony were kind enough to offer us a meal on our break, which is always appreciated. And what yummy food we enjoyed! Would definitely recommend.
Scorrier House, - Food and drinks from The Good Food Company with aerial bartending from The 2 Lisa's
The Photographer and Flowers
Michelle and Tony were lucky enough to have friends working in the industry who were happy to help. Their friend and wedding guest, Christine (from Chrisse's Wedding Flowers), took care of all the beautiful flowers and also photographed the event on the day. What a star! We've loved the photos she's sent to us and the flowers fitted perfectly with the stunning gardens and botanic conservatory of Scorrier House. The natural look and colours fitted so well and finished off the day perfectly.
The Entertainment
Due to restrictions at the time not allowing their guests to dance, Michelle and Tony decided not to invest in a band or DJ and instead turned to something a little more unusual to make their day memorable from the entertainment point of view. And we obviously think they chose wisely! It was such an honour to perform for them and their guests. As mentioned before we poured champagne from above and performed an aerial hoop act outside on our beautifully decorated free standing rig. Followed with a hula hoop act later in the evening inside to set the mood for the evenings enjoyment. After 18 months of no performances and cancellations continuously rolling in, it had been a time we'd never known before. This wedding was our first one back and Michelle, Tony and their guests were a joy to perform for. It was a very emotional day for us and one we won't forget.
The 2 Lisa's - Champagne pouring at Scorrier House
...
Such a beautiful, relaxed and lovely wedding. We feel very privalidged to have been a part of Michelle and Tony's Day - Thank you.
You may also be interested in -