One of the first big decisions you will face when planning your perfect wedding is deciding on a theme. A wedding theme is a great way to bring your style and personality to your big day and can influence everything – from décor to favours, from menu to flowers.

Of course your theme can simply be a colour choice, or choice of vibe. Or if you don't want to go down a specific path, think of three words to sum up your wedding day. For example: 'fun, colourful, relaxed', and this will help you to plan the wedding of your dreams. If you think a theme might help to spark your plans take a look through our extensive list of ideas and see what takes your fancy . . .
1. Woodland Forest
This theme could be interpreted in a number of ways and that's the beauty of it. Have a tipi in the middle of a beautiful forest and your décor is naturally taken care of. Log slices for centre pieces, lots of greenery in your hair, in the bouquets. Set it off with lots of candles in jars or lanterns and you've got a treat naturally made.
2. Wild West
First thoughts go to a saloon bar, cowboy hats and boots, cow horns, horseshoes, arrival on a horse and of course there has to be a barn dance for your guests! Pillow fights, feathers, lassoes, cacti and barrels also spring to mind. Yee-ha!
3. Alice In Wonderland
Dive down the rabbit hole and into a warren of possibilities with this theme. Ginormous playing cards for games in the afternoon, high tea with the mad hatter, black and white square on the dance floor for the chess board, red and white roses in the bouquets, giant mirrors decorating the walls, 'eat me' and 'drink me' labels on everything. It's as if Lewis Caroll wrote the story with a wedding theme in mind.
4. Beach Wedding
This one speaks for itself. Some people dream of getting married with the sand between their toes and the sun beaming down. Actually get married on the beach itself, or alternatively, bring the beach inside and theme your wedding that way. Use shells as décor, have sand in bowls for centre pieces. Place miniature boats, life buoys, surf boards etc around the venue. There are hundreds of ways to theme your wedding to the beach, and a lot of budget friendly DIY ideas as well.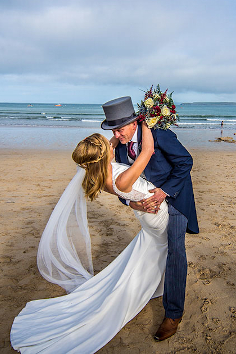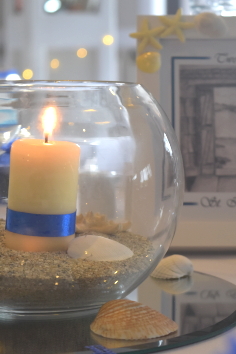 Wedding photo of bride and groom by Alchemy Photography
5. Vintage
Step back in time and theme your wedding by remembering the decades gone past. This theme will never go out of fashion and gives lots of space for interpretation. Honour the past by theming your wedding to any era in the history of mankind.
6. Winter Wonderland
Snuggle up with warm deep colours, furs (fake of course), plenty of twinkling fairy lights, glistening snow, burning log fires, candles, glorious Christmas trees, holly and berries, with entertainment to add to the wonder. Everyone's in the mood for a party in the winter, they just need an excuse.
7. A night at the movies
If film is your thing then theme your wedding around the cinema and going to the movies. Admission ticket invites, a drive in ceremony (very 2020), popcorn and nuts, tables named after your favourite movies, a red carpet, movie posters dotted around. Maybe a 'snug' with classic films playing for when your guests need a rest. A night to remember, headlining with all the classics.
8. Fairytale/Cinderella wedding
Dreamed of feeling like a princess on your big day? Go ultra romantic and ultra over the top and create your own fairtytale wedding. You've got your Prince Charming, now find a castle and make your dreams come true. Think big, think magical, think romance.
9. Mexican
Where to begin. First thoughts go to Mexican food – who doesn't love it? Mexican inspired canapés, tortillas, tacos, fajitas, burritos. Stop . . . I'm salivating!! For your décor think Sombreros, maracas, bright colours, piñatas. A Mariachi band for your entertainment. And of course, let the tequila flow . . .
10. Boho
A Bohemian wedding has a distinctive feel – soft and romantic, inspired by nature and the beautiful outdoors. Considered carefree and relaxed, think greenery, braided hair, natural headpieces, an unstructured and flowing wedding dress, dreamcatchers and macramé all help to create a gorgeous Bohemian wedding.
11. Mardi Gras
The most famous carnival of all! A fantastic colour combo of purple, green and gold sets the tone for this exciting wedding theme. Decorate with glitter and sparkles, masks and feathers, give your guests beads as favours, serve your guests a Hurricane or Sazerac, hire a jazz band. This theme just writes itself.
12. Circus
It's not called The Greatest Show on Earth for nothing! Hold your reception in a heated big top, welcome and dazzle your guests with acrobats and stilt walkers, have your welcome drinks served from an aerialist high in the sky. Perhaps some workshop activities for your younger (and young at heart) guests to enjoy. An all round enjoyable and fantastic theme.
13. Honey Bee
A simple yet stunning idea. Use a hexagonal honeycomb design for your invites, miniature pots of honey for favours, a beehive shaped cake, hexagonal cupcakes and an obvious colour choice of black and yellow. This is a theme for a couple that were meant to bee (sorry - couldn't resist).
14. Lord of The Rings
Lord of The Rings has a huge following, and if you're part of it, make your special day part of it too. Just the bride's look is enough to set the tone, with an elvish dress featuring long sleeves, embroidery and lots of layers. Have your hair in a half-up-half-down style, woven with greenery, ferns and flowers. Top it off with a headband with gold leaves and an intricate design and you're well on the road to a LOTR themed wedding.
15. Wildlife
Have a great passion for the wildlife we share this planet with? Name your tables after animals you've seen together or provide masks as favours, living statues of animals welcoming your guests, maybe even an actual petting farm. What a treat for your guests!
16. Tropical
Fantasise of going to a tropical island to say 'I do' but don't have the funds? No worries. Recreate it with a tropical themed wedding. Steel drum bands, tropical flowers, bunting, carribean food, palm leaves, fruity cocktails. Enjoy! And an added bonus if the sun shines.
17. Superheros
What better theme for the day you marry your own superhero! How cute would your ring bearer looked dressed as a super hero? Cake toppers of superman and supergirl, the photobooth would be the best ever. And you have the best excuse for out of this world entertainment (I'm thinking spiderman coming down out of the ceiling, the batmobile as your wedding car, the turtles to welcome your guests, a hula hooping wonderwoman) . . .
18. Botanical Garden
Get married amongst beautiful gardens full of different flowers that you wouldn't usually find in your home country. Natually beautiful and well kept. The experience will vary depending on the garden – tie the knot at the top of the rainforest biome at the Eden Project in Cornwall, or the Temple of Minerva in Bath. Each venue has it's own unique touch, easily giving your wedding the perfect theme.
19. Vintage Travel
Vintage suitcases, globes, maps and tickets can all give your wedding a vintage travel vibe. If you love to travel, what better way to acknowledge this? Your wedding cake can be suitcases piled on top of each other and you could name your tables after countries you've visited together.
20. Alternative
Pretty and Punk, Goth themed, biker wedding, steampunk… there are endless ideas that fall under the alternative category. Why should the bride wear white? Go for a black wedding dress, decorate with skulls and candles. Perfect – just like you.
21. Garden Party
Think afternoon tea, think Croquet, think bunting. Your garden party can be as relaxed as you wish. Serve your wedding breakfast in picnic baskets, have a string quartette playing, garden games galore. Pimms o'clock I hear you say? Would be rude not to . . .
22. Under the Sea
Love the beach and seaside? Take it a step further and go 'under the sea'. Long flowing hair, mermaid style wedding dress (an actual mermaids tail might be a step too far). Use elegant blue lighting, green and blue table clothes and decor and decorate with coral, shells, fish, sea glass, starfish… If you would see it in the sea, then go for it.
23. Great Gatsby/The Roaring 20's
Love art deco and the roaring 20s? Feathers, diamonds, tuxedos, fringes and tassles all create the ultimate classy and fun wedding celebration. This theme easily guides your entertainment choices, from music to dancers and afternoon activities. Can't wait!
24. Harry Potter
Muggle to Mr and Mrs. Many people getting married today grew up with Harry Potter and rightly so want to incorporate it in to their wedding day. Wands at the ready, a game of Quidditch at the afternoon drinks reception, a wizard-inspired exit. You don't need us to tell you what to do, just to ignite the spark.
25. Book Worm
Love getting lost in a good book? Take your love of literary in to your big day. Library ticket invites, use pages from books to make flowers for your bouquet, name your tables after your favourite reads. Fill bookshelves and bookcases around your venue or even make an archway from books!
26. Disney
Put all of your favourite Disney films in to one place with a Disney themed wedding. 'Beauty and the Beast' rose centrepieces, 'Be our guest' guestbook, Mickey and Minnie Mouse to welcome your guests, arrive in a glass bubble carriage, each layer of your cake a different story and name your tables after your favourite characters. This theme could be as subtle or as bold as you desire.
27. Black and Gold Glamour
Go classic with a glamourous black and gold themed wedding. The décor takes care of itself, a fancy sit down meal, everyone in suits and glamourous dresses. A band that's suited and booted. Everyone loves a chance to dress up so be the one to give it to them.
28. Romantic pink
Pink is the colour of romance. So why not simply theme your wedding this way? You can go for various shades throughout your décor. Pink roses climbing the layers of your cake, all pink sweets on your sweet cart, deep pink jewellery with light pink dresses for your bridesmaids. A classic theme, and for good reason.
29. Rock
If Rock is your shared love, then red and black are your colours, maybe even your dress! Your favorite bands for table names and themes. The music for the night already decided and why not splash out and have entertainers performing to your favourite song!
30. Gaming
Are you big gamers? Do you love Mario and Luigi? Do you want to channel your inner Princess Peach? How about centre pieces featuring a question mark box, a photobooth with costume pieces from all the characters. If you're into gaming, the list is endless.
31. Rustic
Another classic and deservedly popular theme. No theme list would be complete without it. Pay tribute to the great outdoors and the countryside, whether your wedding is outdoors or indoors, with lots of natural or nature inspired elements.
32. Pride and Prejudice
Soft pastel colours, empire cut dresses and long gloves, ringlets, top hats and tails. Every girl dreams of finding her Mr Darcy. Now you've got him, celebrate in an appropriate style with the romance and beauty of a Jane Austen novel.
33. Origami
This may seem like an unusual theme but what a way to decorate with hundreds of origami animals or boats or hearts, or anything your heart desires! One feature of a wedding a year or so ago had 1000 origami cranes, all made by the bride and a small army of her friends and family. A thousand paper origami cranes are traditionally given as a wedding gift to wish a thousand years of happiness and prosperity upon the couple. It is said that cranes mate for life and work together to build their nest, making them the perfect symbol for a long and happy life together. Beautiful.
34. Wizard of Oz
Another great theme taken from a classic old story. Walk down the yellow brick aisle, have welcome drinks served by munchkins, wear your ruby red slippers, tables named after characters from the film, everything is green, have pictures taken in a field of poppies. But don't fall asleep there because there's a fantastic party waiting for you back in Oz!
35. Arabian Nights
Let the Moroccan juices flow with colours, bazaars and spices to whet your appetite. Deep and warm colours – almost any colour combination works. Have floor cushions and low set tables, colourful small tents within your venue to create little snugs, drapes and lanterns all get you set for an amazingly aesthetically pleasing day.
So ...
There you have it. By no means complete - there is a never ending list of themes to be had. But we hope to have given you some inspiration. Once you've decided on your theme, find a venue that fits and then start planning your décor, entertainment, dress…again, the list goes on – Enjoy! It's one of the best times of your life so far!
If you want entertainment to fit in with your theme you can contact us to see how we can help.
You may also be interested in -