And then there were two
Article published: 1st July 2018, by Lisa Truscott


Hello, and a warm welcome from myself and my friend and colleague, Lisa Whitmore, to our very first blog!

A taste of everything that comes our way – circus, performance, weddings, events, the meaning of life… Well maybe not the meaning of life (although you never know!) but a sample of the best bits of everything else.

Most of this will focus around performance life in the South West. I recently moved back to my homeland of Cornwall after ten years of living in the bright lights of Bristol. Some of the best ten years of my life, but it was time to return home.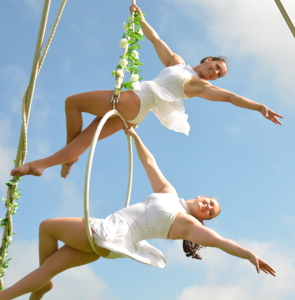 But the move was not to mean the end of circus. I decided to bring my love of circus arts to those tying the knot in the South West. My "other" Lisa, joined me and The 2 Lisa's were re-born. We met and first worked together ten years ago, the partnership developing over time, with us both then following our own different performance paths until just recently.

We've been inspired to write this blog by Donna Sharpe, who writes a very successful wedding blog down here in Cornwall and Devon called Pasties and Petticoats. A couple of months ago she ran a competition to find one business in Cornwall and one in Devon that she wanted to be a cheerleader for – to support them for a year and help them to develop and find their way in the world of weddings.

We applied and were excited to discover that we won!! Very happy!!

Today Donna and I met and had a coffee by a lake. How I love Cornwall for that: finish training and take a walk along the seafront, have a meeting with a client and soak up the sounds of the ocean, have a coffee meeting with our cheerleader and laugh at the swans and ducks. I don't regret moving back home from the big city at all!

Our partner in crime, the business in Devon, is Watercolour Woodshed, run by the super-talented Jo Pennington. She designs handmade and bespoke wedding invitations, stationary and signage. She's a very good artist, you should check her out.

And so ends our first introductory blog. Everyone in Cornwall has been so friendly and approachable so far. I look forward to sharing the joys of bringing aerial and circus to the wedding industry down here. Until next time…