How to serve your welcome drinks.
Article published: 12th January 2021, by Lisa Truscott on behalf of The 2 Lisa's


Whether we're talking weddings or events, a welcome drink is a great way to break the ice, let your guests feel well looked after and sets the tone for the rest of the day/evening.

Standard welcome drinks tend to come in the form of Prosecco, or perhaps Pimms at a summer wedding, on a tray as your guests arrive. And while this is great, why not jazz it up a little? We've come up with some ideas below, let us know which one gets you excited for your big day . . .
1. Cocktails
Forget Prosecco or Pimms! Although they are classics for a good reason, push the boat out and welcome your guests with a cocktail. A good cocktail is a work of art and your guests will appreciate the effort. Your cocktail could reflect the season - how about a light and bubbly Bellini in the summer, or a refreshing Margarita? Maybe in the winter you might opt for a creamy White Russian, Chocolate Orange cocktail, or a Cranberry Mojito? If you're hiring a cocktail bar you might be able to create your own signature cocktail. I'm salivating at the thought . . .
2. Aerial bartending
Think of a different way to actually serve your welcome drinks . . .does your mind wander up in to the air? How about a beautiful aerialist serving your welcome drinks from up above. A fun and entertaining way to be served, as guests watch the aerialist move gracefully through the air, before topping up their glasses. This will certainly be an experience your guests won't forget.  Stunning and original.
3. 'Pimp your Prosecco' stand
If you're a couple who just loves Prosecco, why not add a twist by having a 'Pimp your Prosecco' cart? Ingredients can include fresh fruit like strawberries or blueberries, fruit juices or even different liqueurs to make your own Prosecco cocktails. This idea can, of course, be used with any drink you like - gin, rum, the list could go on. One of my favourites is Prosecco with a splash of elderflower (and maybe a little gin . . .)
4. Champagne dress hostesses
Imagine how it would be to walk around with a dress full of champagne flutes? That's what all your guests will be thinking if you choose to have these performers at your wedding or event. Your guests are welcome to take a glass and costumes can be adapted to suit any theme.
5. Champagne tower or wall
A great photo opportunity, build a tower of champagne, or create a wall with drinks ready to be picked up by your guests. You can choose to hire a wall unit, or this can be a great DIY option if you're on a budget, and still be impressive. And obviously this option also isn't just limited to champagne.
6. Festival wedding ideas
Having a festival or outdoor wedding? Why not fill a vintage bath tub with ice and chill your bottles in there. Guests can take what they want, when they want. And I imagine many will appreciate being offered a nice cold beer to start the day. If you want to go fancy you can make your own ice cubes with flowers in them. This idea looks stunning from start to finish - as ice and also floating in the water as it melts.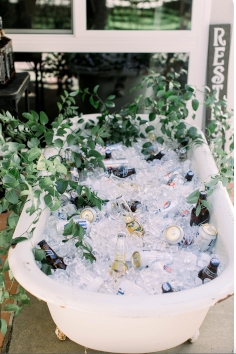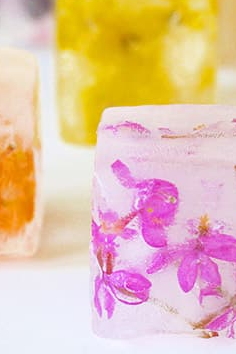 Photo by Laura Moll via Green Wedding Shoes | How to make edible flower ice cubes from e Is for eat
7. The classic
Going for an elegant classic wedding? Then have drinks servers roaming the room, collecting the empty glasses and offering fresh drinks to your guests. There's a reason something remains a classic and if this is you, don't shy away from it and feel you need to be 'different'. Do what makes you happy.
8. Roaming human tables
Another great way to make your guests smile - have some strolling human tables to serve your drinks. Think Beauty and the Beast, with costumes to fit your theme. These performers are best stationed at the entrance way for maximum impact.
9. Soft drinks
Don't forget to have a good tasty soft drink option for those of your guests who don't drink. Whatever the reason for not drinking they don't deserve to be forgotten about. Yummy mocktails, or fresh lemonade. Whatever your choice your sober guests will love having been thought of.
So ...
This is just a few ideas to help you on your way, your imagination is your limit! You may have a theme in your mind already and this will help to guide your decision on how to serve your welcome drinks. If you would like to know more about the Aerial Bartending we are happy to have a chat to provide more information and to bounce around ideas.

Thank you for reading.
You may also be interested in -