How to book the ultimate wedding entertainment.
Article published: 10th August 2020, by Lisa Truscott on behalf of The 2 Lisa's


It's your big day, you've been thinking about this for most of your life. You've got a ring on your finger, it's all very exciting!! But what's next?!? Suddenly there is so much to organise, a guest list to whittle down, a venue to decide on, a date to choose. The list goes on.

Crucially you need to think about your entertainment. Some would say it's the bit your guests will remember the most. Wedding entertainers get booked up way in advance. Especially the good ones (or the cheap ones). Entertainment is such a huge part of your day that often gets overlooked until the last minute.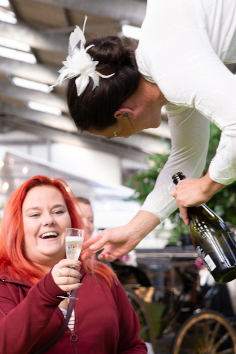 A great way to discover ideas for your big day is to attend a wedding fayre (or two or three!!). There are many to choose from. Down here in Cornwall our favourite ones are run by Art of Weddings. Great atmosphere, a well thought through selection of suppliers, lots of samples to try and some great entertainment laid on. More often than not you'll stumble across something you hadn't even thought of. Like us - "The 2 Lisa's" – many people we serve prosecco to from above, on our aerial hoop, comment 'what a wonderful idea, had never thought about that'.

We recently really enjoyed the Virtual Reality Green Cube that can transport you and your guests to anywhere in the world. What a novel idea. And not one we had known about until having a walk around at a wedding fayre.

But how do you go about choosing and booking what you want for your wedding day. We've created this simple checklist below:
1. Decide on a budget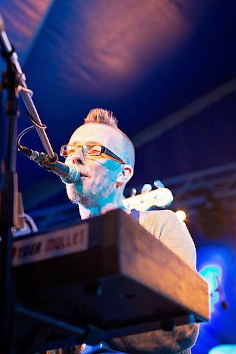 Most people under budget for entertainment. And sometimes have a little shock when they find out prices. You can pay anything from £100 to £1800. The cost of entertainment comes down to a lot of factors that an audience are generally not aware of – for example equipment costs, travel costs, insurance, public liability.

Also you have the choice between professional entertainers (someone who has dedicated their life to learning their art) and hobby entertainers (someone who has another full time job and does this on the side for a bit extra). Depending on where your budget lies will depend on what you can get for your money. Spotify playlist or DJ that comes with lights, sound system and mics for the speeches? Never a truer word said than "you get what you pay for". So decide on how much you can spend and figure out what you can get for your money.
2. What is important to you?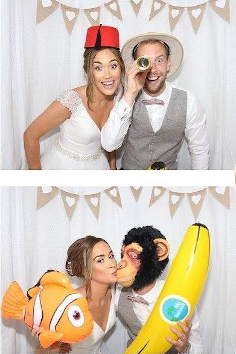 Is it important to you for everyone to be up dancing in to the wee hours? Is it important that your guests are entertained in the afternoon? Is it important to impress your guests with something unusual that will make them talk about your day for a while to come? Maybe you want to have a string quartet while you walk down the aisle? Or an acrobat mingling amongst your guests? A doughnut wall? A photo booth? Chances are you won't be able to afford everything you want so decide on what is really important to you and use that as a focus point to decide on your entertainment.
3. Do your research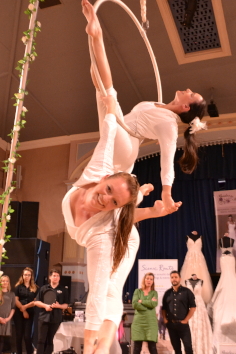 Research is key. Before you make any decisions, get in a couple of quotes from different suppliers. Sleep on it – realistically you might be talking a lot of money so don't make any snap decisions. Ring them up and have a chat. We think it's really important to have a good connection with your suppliers, to know that if there's a problem down the line they will do everything in their power to resolve it. Is it possible to meet them or see a potential entertainer live? Ask them, they will be able to tell you. .
4. Find out exactly what your entertainer needs and check if your venue can supply it.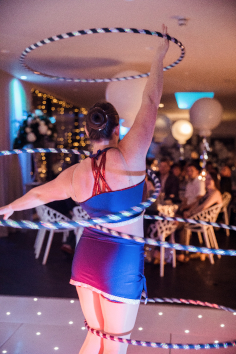 One of the biggest conversations we have with people is whether the rig will fit in their venue. And sometimes couples are disappointed when they discover it won't. But it's much better to have that disappointment in the planning stages than on the day. And most of the time there's an alternative. For us we can offer to put the rig outside, or alternatively an acrobat, hula hooper or other ground performer. A band may be able to offer a duo rather than the full set up. Iron out these problems at the beginning so that in the last few days of run up there aren't any last minute issues – you'll have enough to be panicking about!
5. Pay your deposit and sign the contract
This is the easy bit. Most entertainers will require a deposit of some kind. This will confirm your date and keep it. Once that deposit is paid that date is all yours! Make sure you have a signed contract, which also states the payment schedule. And that's it! Exciting isn't it!
6. Nearer to the big day…
Get in touch with your entertainment to confirm arrival time, performance times and a couple of contact numbers (not yours) for the day itself. This should include contact details for someone at the venue. The last thing you want is any confusion over set times, or an entertainer lost in a field. And you most definitely don't want to be the one dealing with these phone calls!
7. Sit back and enjoy!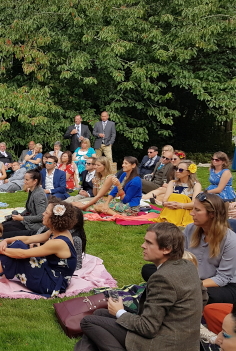 As long as everything is in place (see No 6), a professional wedding entertainer shouldn't need to bother you on the day. This doesn't mean you can't talk to them. Not in the slightest. After twenty years of performing it still makes it all worthwhile when someone makes an effort to say thank you and tell you what a great show it was. That's why we do it after all!
To find out how we can help you with your entertainment options click here.
You may also be interested in -