What to do for your wedding entertainment, when you're a wedding entertainer.
Article published: 18th April 2020, by Lisa Truscott on behalf of The 2 Lisa's


Autumn last year started gloriously with putting up our beautiful rig for a very special wedding at the stunning Cornish Camels wedding venue. We went against the norm for this one and put the rig up the day before. Unfortunately it was raining but we went for it anyway, the forecast for the next day was good. And the reason we put it up the day before? Because it was for the wedding of one of The 2 Lisa's! And as the other Lisa was a bridesmaid neither of them wanted to be putting the rig up on the morning of the big day.

"Are you performing at your wedding?" was a question Lisa T got asked a lot on the run up to the big day. Mostly from non-performers. And the answer? No!!! It takes approximately an hour and a half to get ready to perform – not time that Lisa T wanted to take out of her day. To change out of that gorgeous dress she would only wear for one day? She never wanted to take it off! And her bridal hair that took two hours alone wasn't exactly appropriate for a vigorous aerial performance.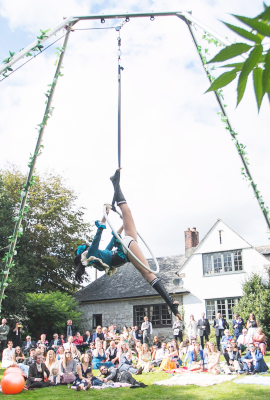 Instead, one of her dear friends, Justine Squire, came and performed a magical aerial hoop act for the happy couple. Back in 2015, Lisa T and Jessie Rose (with their company Bella Kinetica) had performed for Justine on her big day and as soon as Justine heard the news of the engagement, the first thing she said was "I'll perform for you".

At first the happy couple weren't sure and wondered whether to steer away from circus completely due to being around it all the time and wondered if it would be a bit of a busman's holiday? But after some um-ing and ah-ing they decided it was too good an opportunity – to sit back and watch a friend perform especially for them and not be in the wings waiting to go on.

And it was perfect! So many guests commenting on how beautiful and special the show was. What a memory. What a treat. So wonderful to be able to sit back and appreciate the moments of wonder that usually they are bringing to others.

And the weather? It was sunny for the whole day. And the day after. The forecast was right for once! So taking it down the next day was a doddle as well. Even with a small hangover.